AR˛ EDGE ®™©US Patented V9 Original Friction Reducer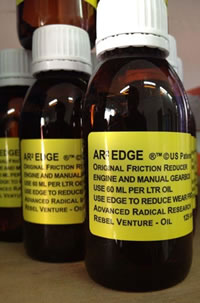 MADE IN OKLAHOMA BY AN OIL COMPANY FOR OIL COMPANIES.
USED BY OIL AND PETROLEUM COMPANIES.

USED IN RACING, BLENDED IN OILS AND FUELS.

US NAVY FLUID DESIGN BACKGROUND FOR TANKS, MARINE AND WEAPONS.

[-Show More-]


What is AR˛ EDGE ®™©US Patented V9 Original Friction Reducer
AR˛ EDGE ®™© is a Metal treatment and conditioner, specially formulated patented combination of synthetic petroleum and state of the art synthetic anti-friction and corrosion protection compounds. This scientific blending produces a product which is heat, mechanical and shear stable and oil soluble.


Why should you use AR˛ EDGE ®™©US Patented
V9 Original Friction Reducer
"For Strategic Lubrication for the 21st Century"

AR˛ EDGE ®™© USA, Patented V9:
It leads the Way in High Performance Lubrication Technology using of AR˛ EDGE ®™© with Complete Confidence in Lubricating Oils, Greases, and Hydraulic fluids to obtain Superior Lubrication.


ELIMINATE
Dry Start-Up
COMBAT
High Heat Build-Up
OPERATE
In Extreme Environments
Used in:
Engine oils
Gear oils
Hydraulic oils
ATF oils or fluids
Brake fluids
Glycol mixed cooling water
Gears front drive hub
Gears rear drive hub
Air con compressor oils
Weapons
PRODUCT WARRANTY
The manufacturer warrants that its AR˛ Edge ®™© lubricant contains no harmful ingredients that might damage metal, seals or gasket materials and will not cause material damage to any mechanically sound equipment when used in compliance with the company's recommendations and instructions. Equipment manufacturer's maintenance criteria are to be followed as per the maintenance manual.

The use of AR˛ EDGE ®™© product will not void the manufacturer's warranty.

Nobody can damage an engine with good lubrication.

AR˛ EDGE ®™© will positively affect bottom line expenditures shortly after initial application. Managers can prolong equipment life, reduce down time and help protect against catastrophic failure.

It will reduce expenditures for capital equipment and reduce energy costs.
ENVIRONMENTALLY SOUND ISO-9000 Responsive
This remarkable product was formulated with the ISO-9000 aware, environment-conscious, maintenance oriented industrialist in mind. Spectrographic testing will show that this vanguard formula is the lubricant package of choice. Industrial waste oil disposal will not be contaminated by sulphur, phosphorous or fluoride laden compound