Our wiper covers the range of:
lower costs
highest quality
superior quality and flexible response
NWB is the top brand in wiper blades, installed during vehicle production by 11 Japanese auto makers. They're also included on export models for use around the world. NWB wipers make a major contribution to safer driving.

NWB wiper blades are the result of a painstaking quality control system using the latest equipment. NWB's unique approach to production has gained the trust and admiration of drivers around the world. Our production lines are individually developed to realize highest quality at lower costs. Our original production systems assure superior quality and flexible response to a wide variety of car models.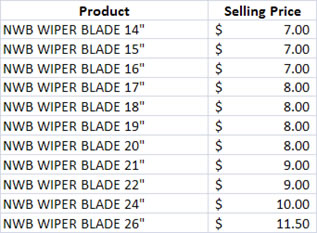 Reliable Products for Motoring Safety

NIPPON WIPER BLADE CO., LTD. (NWB) specializes in the production and marketing of high-quality windshield wiper blades and arms. The trust our products have earned is illustrated by the fact that every Japanese car manufacturer uses NWB wiper blades and arms as standard OE equipment in its vehicle production.

Genuine Parts Clients:
Toyota Motor Corporation
Nissan Motor Co., Ltd.
Honda Motor Co., Ltd.
Mazda Motor Corporation
Mitsubishi Motors Corporation
Hino Motors, Ltd.
Daihatsu Motor Co., Ltd.
Suzuki Motor Corporation
Fuji Heavy Industries, Ltd.
Nissan Diesel Motor Co., Ltd.
Isuzu Motor Ltd.
Saab Automobile AB
Chrysler Corporation
Kia Motors Corporation
Hyundai Motor Company
Asia Motors Co.,Inc.